Siberian Larch Facts, Properties, Durability & Uses: Your Complete Guide
Want timber that can withstand the elements? Say no more; we have the solution!
Siberian Larch is a versatile, high-performance wood species that may be used for projects including cladding, decking, fence, or joinery.
We have consulted our extensive knowledge of this amazing species—fun facts, physical characteristics, advantages, benefits, applications, prices, and any treatments you might want to think about—as a major Ireland wood merchant.
Introduction & Facts about Siberian Larch
The Larix genus has a wide variety of larch species. Larix sibirica is the scientific name for Siberian Larch.
The name comes from the fact that this particular species is endemic to Siberia and grows as far west as the border with Finland. Additionally, the species has been introduced to Iceland, Greenland, Canada, and the US.
The Siberian Larch is a "frost-hardy" tree, meaning it can endure freezing, harsh conditions. When fully developed, it has needle-like leaves, grows to heights of 20 to 50 meters, and has a 1-meter-diameter trunk.
Siberian Larch grows exceedingly slowly because of its harsh native climate. Interestingly, though, these unfriendly growing conditions give the wood a variety of practical and helpful qualities that make it ideal for various uses, especially outside projects.
Is Siberian Larch a Hardwood?
Technically, the answer is no because it is considered a softwood even though it comes from a coniferous tree. Despite this, Siberian larch is one of the world's toughest softwoods. The harsh "upbringing" that larch had in Siberia's sub-zero climate resulted in a large amount of hardness and inborn toughness. In actuality, it is more dense than many hardwoods!
Siberian larch begins its life as a golden-yellow wood after being cut, but if left untreated, it will ultimately age to a lovely silvery-grey.
What characteristics have Siberian Larch?
Appearance
Colour: Creamy yellow to light brown, fading naturally to a lovely silvery-grey.
Grain: Very straight, fine, and dense grain with close growth rings.
Surface: Smooth
The Siberian Larch grows slowly, which results in its extremely tight growth rings and fine, thick grain. This species can typically have small, tight knots, depending on the grade selected. This lovely natural tapestry can be enhanced by the use of Osmo oil, elevating the wood to a prestigious and in-demand material in the world of architectural design.
It also makes it distinctive since no two pieces of Siberian Larch are alike due to its distinctive nature. Siberian Larch's appeal is further supported by its adaptability;
A closer look reveals delicate hues in certain Siberian Larch wood, ranging from milky white to reddish brown. If left untreated for around two years, the wood will develop a natural grey "weathered" appearance, which, depending on how you see it, may not be a terrible thing. Designs in one color may provide an air of refined refinement!
Resistance to scratching
Larch is a species that evolved in the Siberian woodlands' frigid, sub-zero habitat. The wood has a relatively long growth period and is dense and hefty.
This kind of wood is very resistant to dents, scratches, and knocks, making it perfect for outdoor uses like cladding and decking. Less abrasion means less opportunity for moisture to get into the wood.
The density of Siberian Larch is 590 kg/m3. This makes it denser than Western Red Cedar, which measures in at 370 kg/m3 (still decent, may we add) as a reference. The Siberian Larch also outperforms several other well-known commercially available hardwoods with a very outstanding Janka hardness rating of 1,100 lbf.
Resistance to rot, insects, and dampness
This wood is designed to withstand the Siberian environment, making it ideal for outside use in Ireland. The Siberian Larch has astoundingly effective natural defences against the elements thanks to its high content in resin, extractives, and other compounds.
Trees naturally generate resin as a defence against harm, diseases, and insects. Insects are repelled by the natural antiseptics found in resinous timbers like Siberian larch.
Woods have a propensity to warp and bend when they are exposed to dampness. Siberian Larch is far less prone to the problem because of its high density, which prevents as much moisture penetration from occurring.
Such is its natural durability, unlike many other species, Siberian Larch can be left without stain or paint treatment. For an exceptional exterior, you can't go wrong with larch.
Workability
Given its high levels of density, strength, and scratch resistance, Siberian larch may be forgiven for appearing to be a difficult wood to work with.
In actuality, this is not at all true. Siberian larch has excellent drilling capabilities, is well-suited to accepting fixes, and accepts dyes quite well (which can actually emphasize the grain). It also has outstanding machining and gluing skills.
Quick tip: When working with your Siberian Larch, use high-quality stainless steel fasteners to prevent rust and stains. After all, fine wood calls for quality hardware.
Screws for exotic hardwood 4,0x50mm
Additionally, drilling is advised rather than nailing to reduce the risk of splitting. Make sure all instruments are kept sharp because of the material's high density.
What is Siberian Larch used for?
Cladding
Fencing
Decking
Joinery
Flooring
Siberian Larch is a top option for a variety of architectural projects, particularly outdoor ones, due to its exceptional natural physical qualities and seductive appearance. Cladding, decking, and fence are some of the most often used applications for this wood in both commercial and domestic settings.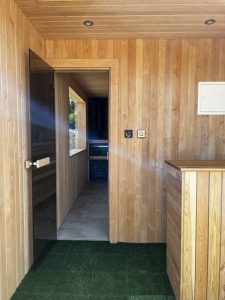 Treatment for Siberian Larch: What You Need To Know
Is Siberian Larch treatment necessary?
The Siberian Larch is extremely minimal maintenance because to the exceptional natural qualities that the species is endowed with. Before being placed, it doesn't technically need to be treated or sealed.
Even the most resilient of forests ultimately suffer damage from snow, ice, and UV radiation. Therefore, applying a protection on your project may be beneficial if you want to extend the life of your larch (and prevent it from turning silvery-grey).
In addition to preserving the larch's original color, a high-quality treatment may actually enhance its inherent attractiveness by making the grain "pop"! – We use Osmo oil when completing our projects
The Siberian Larch's lifespan is how long?
Despite their inherent hardness, all materials, including Siberian larch, have a shelf life. Larch trees can anticipate a lengthy service life of more than 50 years and even up to 100 years with the proper care.
We advise reapplying the finish to treated larches every two to three years. To enable the treated wood to air out, try to do this on a dry, warm day.
Is Siberian Larch Sustainable?
Timber is a resource that is entirely renewable since trees may always be planted again. Of course, this does not imply that its usage is entirely sustainable; in order to prevent the depletion of timber resources more quickly than their renewal, forests must be harvested sensibly.
Fortunately, the Siberian Larch is one example of this. According to study, larch trees make up 37% of the forests in Siberia, making it a relatively plentiful timber species. Siberian Larch is a particularly sustainable option since it is now being replaced more quickly than it is being harvested.
In addition, Siberian Larch is genuinely good for the environment. Wood is referred to as a carbon sequestering construction material because it naturally sequesters carbon dioxide (a greenhouse gas) from the atmosphere and releases it back into the atmosphere without excess.
Not to mention that wood, especially frost-resistant species like Siberian Larch, has excellent thermal insulation qualities. Buildings with a timber exterior use less non-renewable energy to maintain a reasonable temperature.
At Sauna Expert , we only source our timber from responsible suppliers.
What is the price of Siberian Larch?
Is Siberian Larch a costly or affordable wood? The answer is obviously a subjective one depending on your specific budget and the scope of your project. However, Siberian larch typically falls at the lower end of the price range, especially when compared to several other widely used commercially accessible woods.
https://saunaexperts.ie/larch-wood/
What stores sell Siberian Larch?
You're in the proper location! We at Sauna Experts Irelands are timber leader . We have been offering our clients high-quality timber and timber products for many years, whether they are retail or trade consumers.
Charred Siberian Larch Profile DR